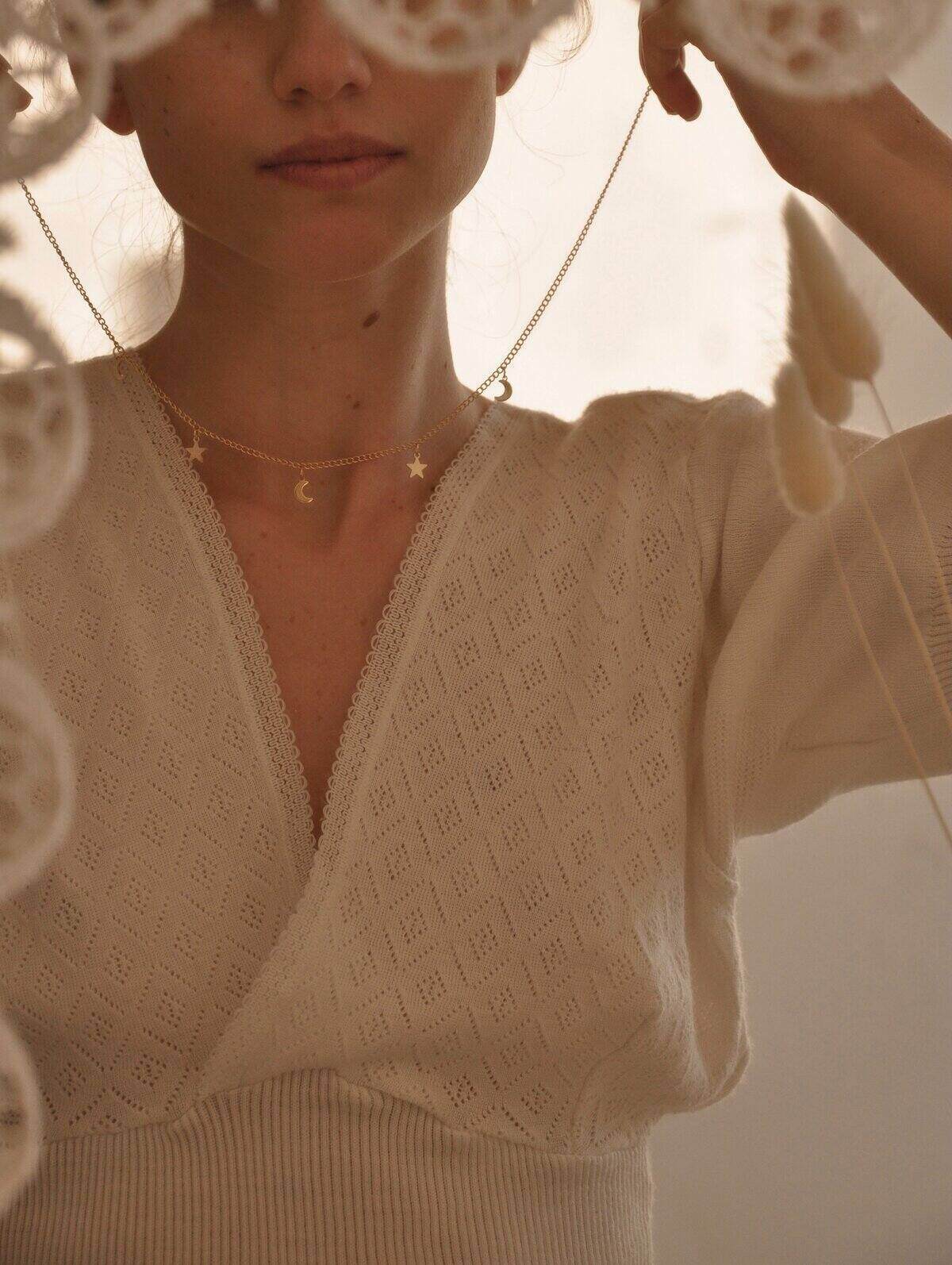 ---
Have you tried contemporary minimalist jewellery? We guide you through how to style the top minimalist jewellery brands in the UK, and rules to remember.
There is such a glorious variety of minimalist jewellery available from wonderful brands here in the UK. If you're looking for excellent value contemporary minimalist jewellery from your favourite influencers, then you don't need to look any further than the Reliked jewellery collection
But buying minimalist jewellery can actually be a little daunting. When something is minimalist you need to pay more attention to the fit, the style and the detail. Here is our complete guide to contemporary minimalist jewellery that's in fashion in the UK right now so you know which few pieces to invest in.
---
The perfect minimalist jewellery collection
Like your wardrobe does well to have a clutch of minimalist pieces to serve as the bedrock for everything else, your minimalist jewellery collection should be the same. Whether you're a fan of gold, silver, rose gold or all three, having a small selection of the best contemporary minimalist pieces that suit you and your style will ensure you are comfortable and look fabulous every day.
The excellent news is that with minimalist pieces, they tend to stand the test of time. Choose them carefully and they will last a lifetime. Choosing these pieces is about choosing pieces that will last and will be cherished for years. It's about finding something which is timeless and classy but utterly 'you'.
---
We really recommend getting some essential pieces of minimalist jewellery. If you have these in your collection then you'll always be dressed for the occasion. Whether it's everyday wear in the office or kicking about with friends at the weekend, you'll be able to transition seamlessly to evening wear. They will work well whether you're a capsule wardrobe fan or have cupboards bursting with different styles.
---
You simply can't go wrong with the timeless elegance and everyday ease of a pair of your favourite studs. There's nothing complicated here; they even work if they are the plain gold balls you had your ears pierced with! We personally love a simple gem stone, but go for what you love. Choose to have them in the metal you wear most often.
---
2. Always ready with hoops
---
Armed with a small selection of versatile chains of different weights and metals, you'll always be ready for anything. You can swap chains and pendants according to your outfit and easily create a new look. Layering chains of different lengths and styles also works exceptionally well, tailoring your own look. So choose a selection of lengths and links.
---
4. Individual pendants to match your style
As long as you have a mixture of chains, you can then curate a selection of pendants which you can call on when you need to change your look or accent your outfit. At a bare minimum, it's worth having a diamond pendant that suits you. Something small and elegant has the power to transform any outfit into something classy and luxurious.
---
In the same way that you should select your chains to layer, choose your bracelets in the same way. Choose a contemporary but timeless barely-there bracelet that you can wear every day with everything, such as this gorgeous understated Cluse Silver All Hexagons Bracelet. You can then stack on more when you want to level up your look.
---
Choose a watch for everyday wear which works with anything you wear. A metal strap or bracelet watch and a white or black face, ensures that your watch needn't be changed when you change outfits. This way you can shell out on the best watch you can afford and always look elegant whether you're in jeans or a cocktail dress.
A good example of the style of watch to go for is this beautiful Guess Janes Silver/Swarovski Aurora Bracelet Watch. It can be worn with anything and will be eye-catching.
---
7. Versatile stacking rings
Choose rings in your favourite metal and you'll always be able to stack them to create a more impactful look. However, just a sleek band will always ensure you look polished.
---
8. Statement necklace in metal only
No matter how carefully you choose your chains, there are occasions when only a statement necklace will do. If you choose this piece carefully then you can continue with the minimalist theme. By opting for a statement piece which only uses metal (and diamonds if you want to push the boat out!) then it will go with your daring red dress as easily as it does with your teal blouse.
---
9. Something or two which is quirky and contemporary
When choosing minimalist jewellery you still want to stay ahead of fashion trends. At the moment the simplest way to do this is by choosing something asymmetrical, whether that be a quirky pair of earrings or a necklace. This way you can change a look quickly to be fashionable and impactful, without having lots of different items.
When you wear asymmetrical jewellery you can be sure that others will stop to admire your look and even try to emulate your style. Many of the minimalist jewellery brands in the UK advocate mix and match pieces for this very reason.
---
Some rules with minimalist jewellery
When you choose to have a minimalist collection of jewellery, there are some basic rules of thumb to follow to ensure it all works well.
Take care to choose pieces which fit perfectly. From ensuring a selection of necklaces which layer as well with each other as they do on you, to making sure your rings stack beautifully, take care with sizing and fit.
Always opt for the same metal. Know which metal works best for your skin tone and then stick with it. Mixing metals can work, but when you're going minimalist, it's easiest to stick with one.
Invest in good pieces and look after them well. If you choose good quality and care for them, then there is no reason you can't wear them day-in-day-out and still look incredible.
---
---